---
Prelude: The Solarian on Earth. The aliens in the Saucer War have enough Solarian doomsday weapons for the job right now (one being enough), but they're missing one. Chances are, he's making North Dakota bright and sunny right now. Which leads to me being interviewed by the Weather Channel!
In 1999, the aliens intervened when one of their rogues attacked Earth. They sent more than one of their doomsday weapons against him. They were all defeated.
Already at the time, our world's most prominent superhuman Ellipsis (and please don't make me say that again) had actually intervened in off-world politics (I'm not surprised), and was galactically acknowledged as the Doombreaker. Ellipsis got defeated then too.
But that was the battle in which I (of all people) led humanity in a psychic assault upon the alien rogue! And humanity didn't get eradicated. Aliens now know me as the Deathbringer.
This all happened off the historical record. Various authorities have decided, the public doesn't need to know the details.
Since then...
In 2003 the aliens saw me, their duly acknowledged Deathbringer, submit to a governmental authority which claimed the exclusive right to represent humanity. That authority was the United States of America.
In 2006 the aliens thereby searched for an alternative, among the descendants of the Tsars or Russia. They found none. I was there. I did nothing to object. This has led directly to the aliens declaring war on the United States of America, instead of coming to me to see what I could do to defuse things.
Ellipsis, the Doombreaker, is out of commission. He's in the realm of dreams. From what I know of the aliens, they can talk with him there. From what I know of Ellipsis, he's saying, "Yes! Destroy the United States government!"
The missing Solarian wound up at O'Hare Airport, controlling weather. But he went free after an incident there. I since saw the Solarian, and did nothing to report. Apparently he likes staying on Earth and controlling weather, because he's doing it in North Dakota now.
I'm not sure how the aliens feel about this. On the one hand, they may be searching for one of their own missing soldiers. But on the other hand, this soldier is sending some pretty obvious signals to the skies, and they may leave him alone. The aliens seem to trust their doomsday weapons to do what they like.
... Okay, that's all I know about the strange weather system in North Dakota, and what may happen about it. Tell Steffi I say hello, for what it's worth.
Still, just because I'll talk with the public about the rogue Solarian, it doesn't mean he's my problem. Really, it doesn't. (12 - 13 Jun)
The Return of MANIC 5. Hudson Ramo and Karen Bodil of the DuoPolarity Companies have been forced to work with Russell Anvernacht and an android of some sort to survive - and the android looks like the infamous MANIC 5! They're fighting their way off a teleport platform. (19 Jun)
Teleport platforms are another bit of old-Earth technology that crossed over with us superhumans. Henry Heid controls one. As well I should know, Russell Anvernacht has an arrangement with him.
MANIC 5 is himself old-Earth technology - from the future! He was an artificial intelligence, smart enough to become a master villain. I'm proud to report, he was scrambled after a reality shift. But then, Anvernacht was too... and he came back. Now it's MANIC's turn.
Where's MANIC been? Anvernacht says, a secret Lunar colony lab - which gets my friends involved. But it's apparently really a U.S. Gov lab.
What's MANIC look like now? He's been rebuilt using Earth's finest robotic technology. Which is to say, he looks like a vacuum cleaner with attitude. And he comes with a distributed battle management program that's almost as evil as Windows Vista.
What's he got planned? At his prime, he did things like try to sink San Francisco. But he admits to his heroic rescuers, this is more of a rebuilding year. For that purpose, he's willing to act like heavily armed office equipment for DuoPolarity of Boston. Theodore Ketzel of DuoPolarity is willing to take that deal and try to reprogram MANIC. Personally, I think Theodore's being overambitious again.
The Saucer War, Status Report. The war is quiet, but the saucers are still in the news.
The game of the Gorilla Mormon Leno Quest is out. In a live-action run, I hide from the ape inside a two-door suite. Can I confuse him with words? (13 Jun)
In the news: Some U.S. politicians say "Christmas angels" wanted them to invade Iraq! Could be, alien voices in the head. (13 Jun)
I write these really-true world reports, but I write fiction too. I've submitted Superhuman World to a creative writing class! The Saucer War is starting, but I'm using the 1999 superhuman roster because the aliens don't really respect any of us Earthlings this year. My teacher's referred me to an award-winning expert in worldbuilding. Heh, I suppose I show promise, but fictional worldbuilding takes more effort than building the real world does. (25 Jun)
The news of the alien invasion is quiet recently. But it might be good to review the war so far.
Ever since superhumans arose on the Earth, they've made an impact throughout the Galaxy. Not that the Galactics are free of blame, but the Earthlings have become notorious lately. For that reason, aliens treat the Earth the same way the United States treats Iraq.
Most of outer space, Earth has no chance of occupying. Earth had one secret spaceship capable of flying to the Moon - but it was stolen by renegade humans from a secret Lunar colony, then swiped in turn by a walking alien doomsday weapon. The Solar System is now a No-Fly Zone.
Earthlings still occupy the Space Station, but just barely. Alien gremlins are besieging it. Russian computer glitch? Gremlins. American Space Shuttle insulation out of place? Gremlins. Other stuff never gets mentioned in the news, because NASA's reluctant to admit all their problems, but it still happens.
An alien doomsday weapon from a previous incident is wandering North Dakota. He may have gone peaceful and native - but then again, he may have been reprogrammed by now. Nobody really knows.
Earthlings in response are ready to storm alien cyberspace.
Aliens may be considering a more long-term occupation presence, in response to recent time-machine meddling by Earthlings. The occupation force is ready to deploy. Jellyfish from Outer Space once inhabited Lake Michigan, after all.
If one Earthling faction should for some reason attack another on its own planet, aliens would treat us like squabbling natives who can't help but fire mortars at each others' mosques in Baghdad. About such Earthlings, see below...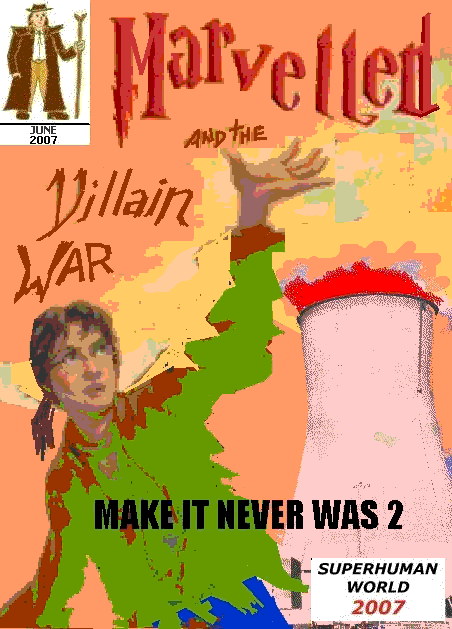 Make It Never Was 2. There's been a nuclear meltdown at Michigan City, Indiana, and three friends of a young mage get radiation poisoning. He goes on a quest to make it Never Was. It's like a new Harry Potter novel, only with... nuclear meltdown? (26 Jun)
It might be good to review the factions at this point, and how they feel about nuclear meltdowns.
Aliens are horrified at the thought. The space-jellyfish in particular would prefer Lake Michigan stay inhabitable.
Conversely, some of the Earth Redeemers are willing to "sanitize" anything that aliens might find useful. And psychics are spreading a rumor that aliens are coming back to Lake Michigan.
The 99 most evil people of the world (it used to be 100, but Osama bin Laden's been expelled from the club) are exploring how best to use the aliens for their own purpose. The U.S. Gov isn't a problem for them, because the Secret Masters of Evil rank above the U.S. President in any realistic measure of power. And they're mostly against nuclear meltdowns. Of course, there might be a rogue member other than Osama.

Who's in the Secret Masters, anyway? Technically I am, because I first gathered them together while channeling Luciferpower once. But my position there is mostly honorary.
Other than myself, I've noticed: evil mayor Russell Anvernacht, patriotic Rupert Mafekinger, wealthy Malcolm Dunevoy, crusader Henry Heid, religious Philippe St. Joseph Lateran, "Torquemada" the enemy of mages, Jonas Nesmith the superhuman crimelord, Viktor Antonenko the Russian militarist, and one Countess Symmetria San Giacomo who slew her husband and took over his seat. The Strategos from the secret Lunar colony sends as his representative Sam Johanssen's son "Imperilus".
As far as I can tell, the rest of the roster is filled by crimelords, religious figures, third-world dictators, and corporate executives who go golfing together.
But no Black Arts mages, other than maybe this new Countess. Black Arts mags are mostly pricks who don't work well with anyone. Though there are indications, the Herodias Dancers' Guild is having their way with the mages. Speaking of mages...

The mages of the Black Arts Competition aren't adverse to proving they can defeat a great work of science. Just bring some gamma rays in on top of a nuclear reactor. And the more "red-state" the target is, the better. For some reason, evil mages hate Christian fundamentalists (as much as they hate any rival system of magic). Illinois or Michigan nuke plant okay and may live, Indiana nuke plant bad and need meltdown. Sigh.
The humans of the secret Lunar colony don't necessarily work well with the aliens. Lunar humans swiped the Challenger II spacecraft, but then I helped swipe it back, but then aliens swiped it in turn. The Strategos who runs the human colony might want to move against aliens, and could easily find someone to tell some evil mages where the best gamma rays can be found.
Vince Cortez is the heroic young mystic; he has friends in northern Indiana, whom he wants to retroactively save. But he definitely needs help.

The general public is actually okay. It would take a meteor to crack the containment unit of an American nuclear plant. But Vince's friends were on the inside, working at the plant.
Here comes the 600 page quest! ... No thanks. I'm so busy writing, I can't even read 600 pages in less than two months, let alone write them. So let's cut to the chase.
First, Vince needs time travel. The only way is a time machine from the Secret Masters of Evil. Vince can get their help, but he basically has to sell his soul to them.
How useful is a time machine nowadays? As Osama bin Laden's found out, it might change the past, but it won't change the present. But nobody's tried it on the recent past yet. Maybe it could work, as long as the record of the present isn't contradicted. And that record is only as accurate as the doctors and the news reports say it is.
So, every other mage who hates nuclear meltdowns, gets to work on making sure the doctors can't take accurate measurements. Short of miracle cures, it's the only way.
Then, Vince needs someone who can actually stop a nuclear meltdown. The best choice is the living avatar of cold, Ultimate Low C. He works for the Earth, so he's happy to help... once Vince finds him, which is a quest in itself
When Vince has everything in place in the past, the nuclear power plant goes offline - but nobody gets irradiated, even from gamma rays brought in by evil mages. Ultimate Low C can make even gamma rays cold, at least when Vince enhances his power, as is his own talent.
And so Vince has saved his Hoosier friends. Now he only has to wonder, what will the villains ask of him in return?
My Vampire Love. Girlfriend situations never last long with me. Here's another reason why.
I finally get fed up and resign the Patriotic Homeland Corps! I walk dimensions and have proven in front of their supreme commander that nobody they know can restrain me. Various of my old friends have various reactions, from "I hate when he does that" to "Maybe he can come work for me now". (24 Jun)
In response, the Corps sends me on a bus trip. When I scramble for seats, two cartoon mice tell me now I know what it's like. As I well know, Toons do live among us. (24 Jun)
The Corps will let me quit without contention... but only after one last mission, on a sealed train from New Jersey to Michigan, with all communications disabled. They've got an asset that needs escorting.
So soon I'm trying to restrain a woman, on a Russian container car on an American train. For now I've got her down, but this may not last. (25 Jun)
I forget... is 30 degrees C damn hot, or just hot? And is it a good sign when I've met someone with strange currency - with her face on it? And she would be the one I was wrestling on the train. (27 Jun)
Khrisa Stalker is a vampire, and will gain power over me if I go down to the Red Cedar River at dusk and feed her some cake from my birthday... Oh, why not? Technically my birthday came when we were wrestling on the train, but we can still celebrate together. She seems decent enough. (28 Jun)
Khrisa does not prey upon humans, at least not for nutrition. Any sort of raw meat will do for her, but she prefers to deal with the butcher directly so as to retain all the nutritious internal juices. She's also been useful to people as a hunter with superhuman powers.
But she's being hunted herself. A team of vampire hunters has brought along the game of Battleship, so as to keep their hunting skills sharp. The Brotherhood of the Reconnaissance is going after Khrisa, because she's in violation of Death! (29 Jun)
The hunters stake and decapitate Khrisa during a strangely misty sunset, and declare victory as she turns to dusty mist. But I saw her gather a handful of dust first. When vampires die, they turn to dust - but when they live, they turn to mist. And I could swear the mist winked at me.
Honestly, I doubt she'll fool the new Champions of Death for long. But good luck, Khrisa.
---
New Pannonia. The Patriotic Homeland Corps is starting to think very specifically in terms of empire. And one of their imperial terms scares me more than any term I've heard since "Aleut Republic".
The Corps has already gotten a concession from the U.S. Department of Homeland Security to do border patrols. Hence the patrolling I was doing with them. And the Gov loves them, because they're enlisting unemployed people, at no cost to the Gov.
I was with the Corps in Michigan... but Michigan is a border state, after all. And it's got lots of unemployed people, thank you very much the automobile industry, which seems very reluctant to adapt to a decades-long decline. Michigan is even pivotal to homeland security... as U.S. residents learned in 1812. What's to keep a small boatman from entering the U.S. illegally by crossing Lake Huron?
The Roman Empire was once in a similar situation. They had to guard their own northern water boundary, on the Rhine and Danube Rivers. The provinces of Upper and Lower Pannonia (near modern Vienna and Budapest respectively) were pivotal to this, because they were on a bend of the water boundary... just like the Upper and Lower Peninsulas of Michigan are now.
At various times, the Roman Empire decided that a more northern boundary along a mountain line would be more defensible. So they'd lay invasion plans, from out of Pannonia. Incidentally, those invasions are why Romania is named after Rome. Czechia and Slovakia almost got a similar end result.
Until very recently, I was a conscript in the Patriotic Homeland Corps. As such, I have some knowledge of how they operate. So I am now scared... because in the shopping mall today, I heard some bums discuss legionary deployments from out of Pannonia. The U.S. part of the Corps recently started calling its units "legions", and they just started calling Michigan "New Pannonia". (1 Jul)
If the Patriotic Homeland Corps does like Rome did, they're going to invade Canada! Or at least forcefully offer to help out with Great Lakes security, with full backing from the U.S. Gov.
Canada was never much into the Patriotic Homeland Corps, because aside from the "True North Strong and Free" phrase they seem to love, Canada is more like a good world citizen than like a Patriotic Homeland. And Canada is kind of a cesspool of international scum and villainy... I should really go to Toronto sometime, to visit that for myself. Still, I like Canada and would prefer it survive on its own terms.
Here on the south side of the border, the Corps is starting to get even scarier than it used to be. The barracks are in lockdown conditions, so people can barely go outside to take trash to the dumpster. Seems there's some concern about people getting out to leak the news. (5 Jul)
Well, I'm already out 'cause they couldn't stop me and they know it. People I know on the inside would love to be in my place. I'm feeling some obligation to do what they would if they were here. So, I call a friend with U.S. Gov connections...
Me and Mrs. James. Laura James (formerly known as the superheroine Morningstar) and I sit on a bed together and fool around with blankets and a remote control, while someone tries to debrief us. (3 July)
The U.S. Gov has reason to need my input on the Patriotic Homeland Corps. So, I've consented to go to a debriefing. But there are medical considerations.
Laura James attends too, because she has links to a para-governmental organization from our old world. The Paxis Directorate of the United Nations, that is. But she attends from bed. She can travel, but she's not been fully healthy since she lost her superhuman powers last year.
This being a U.S. Department of Homeland Security conference, there are some restrictions on teleconferencing. So here I am, near Laura's bed.
Homeland Security briefs us, Canada's caving. The Patriotic Homeland Corps (being a supposedly neutral international organization) has gotten a concession from the Canadians to patrol their side of Lakes Superior and Huron. If that works out well, two other Great Lakes are next. I remark, the Corps invasion is proceeding even better than if they had to actually invade.
More important to me... Laura's mental attitude has changed, just like her health did. Now, she's positively frisky when I sit on her bed to hold her hand. Please, Mrs. James, I know your husband and children.
At least Laura's in better shape than a lot of superhumans have been...
DuoPolarity 3.1. Weird creatures from another universe are invading us again. My old universe actually had protocols (I actually helped write them) for when avatars of chaos show up. But this universe is out of luck.
These weird creatures are called Toons. They have all the powers and invulnerability of Saturday morning cartoons.
I saw a couple of Toons last month. (24 Jun) It was the start of an infestation!
Black Arts Mages are behind it. It seems a certain android who resembles MANIC 5 recommended that strategy to them. The android might be going for that vacant slot on the 100 Most Evil People. When I put it that way, he's got my vote.
The evil mages had a specific goal in mind. They seem to have located seven objects which together support all superhuman power on our world. If Toons go grab them, the Toons can become Saturday Morning Super-Powered Loonatics and have even more fun than before - while sucking away the power from all superhumans whose power comes from other than magic! Oh, gee, here we go again.
Hey, I hadn't noticed I was depowered! I try not to rely too much on what superhuman powers I ever have, because they're never all that reliable anyway.
The evil plot got rolling in time for evil mages to try to nuke Michigan City! The superhumans couldn't respond in their usual fashion, which is typically to blast things... perhaps that worked out for the best. Fortunately one good mage was ready to oppose them.
Meanwhile, the depowered superhumans went on the standard sort of DuoPolarity quest, against Toons. At one point, the quest went into the past, where the Toons had been before with those same power totems.
On this sort of quest I am not only an expert, I am actually the leading practitioner in the universe. I'm also the only successful practitioner of Make It Never Was. And people who know about these things, know about me.
It seems people tried to contact me for help, but I was on a sealed train with a vampire at the time. By the time I got the message, nobody was answering a return call. Could be, the Patriotic Homeland Corps did a sacrifice play to neutralize me.
Still, the quest is proceeding. Toons have had all the fun they want, so they're about to release their powers explosively.
Now that I'm back on net, I can finally consult. Toons do not just blow things up, nor can they ever be fooled into doing so. Any attempt to make them do harm, just backfires on the controllers. I'm thinking any sort of Toon explosive release will just put the powers back into the general power pool. So, let it go!
Maybe I'll get some powers back, maybe I won't. But I've learned, everything changes anyway. (5 Jun)
Librarian to the Galaxy. The Earthling cyber-strike against the alien invaders is underway - but it has some unexpected results. (6 Jul)
The Earthlings are on a mission to cripple alien cyberspace. But when they go in and start deleting files, they find the system just freezes them on occasion. Then the aliens who run the Encyclopedia Galactica notice them - and forcibly recruit them as editors!
Wendie Robinson is the schoolteacher who joined the strike force. She has librarian training and is actually helpful to the aliens.
In response, Wendie is given Galactic office... as a librarian. She's only the third Earthling to achieve Galactic office. The other two are Ellipsis (declared "Doombreaker" during a space adventure of his) and... well, me (once acclaimed as "Deathbringer" for what I helped do when the aliens came to attack Ellipsis). Ellipsis and I are both inactive as regards our planet in Galactic affairs. Wendie, on the other hand, is active and has become a Galactic force.
And importantly, Wendie's willing to break off from U.S. Gov supervision and try to idealistically represent all of Earth. This impresses the aliens.
Admittedly Wendie is the most junior of librarians in the Galactic pecking order. But that still makes her superior to the rest of Earth. The aliens therefore proclaim Wendie to be the provisional government of Earth!
Wendie's a great person and all, but somehow, I doubt that's going to end the Saucer War.
Still, there are some benefits. The aliens have taken control of freight train service in Texas (their gremlins can pull the switches), so now trains are avoiding flood zones better. (10 Jul)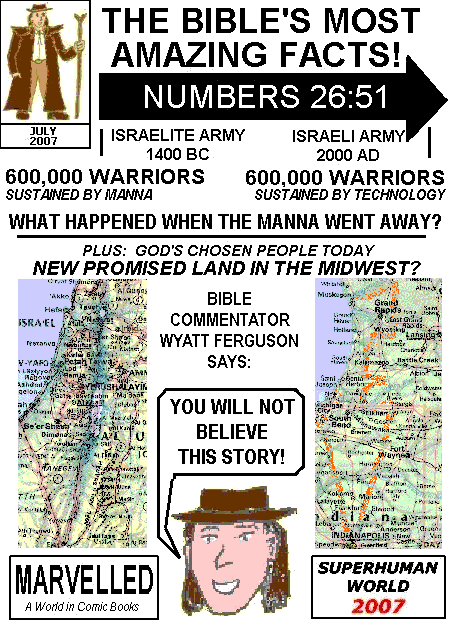 Now What? I'm not sure what's going on, but there're weird customs, weird borders, weird currency, and Biblical warriors loose in the American heartland.
My new Russian friend Viktor is staying over in America. He's technically one of the master villains, but technically so am I. And Viktor's fun to travel with. So I've arranged him a birthday road trip to Hooters in St. Louis. They have sleepovers there! (30 Jul)
There I learn some of the Russian interest in me. In 1988 I invaded Russia by myself! Admittedly that was in another universe, but the Russian gov has still decided to keep tabs on me since then.
When we head back home, we find a sort of border crossing in the middle of Indiana! Traffic is going the wrong way at a truck stop there. Parents there tell ther sons, "Let me check your pee-pee." Apparently the guards are checking for circumcision! But they're fooled by some penile prostheses. Viktor and I buy a couple. (26 Jul)
I'm expected in Indianapolis tomorrow for two different jobs. But my Russian friend and I can stay in hotel tonight, with restaurant and pool and outside bar, and get to work in the morning. (26 Jul)
When I pay cash, the restaurant gives me a pile of various foreign currency. I should start a collection. (26 Jul)
When we get back, another friend of mine (Helena the demon-woman who reminds me of my mom, if you have to ask) has to go to work, but she gives me money for my belated birthday - big bills with ideas for passwords written on them. The $15 bill with "CHILI COPY PROTOCOLS" is interesting at least. (28 Jul)
The freelance border guards are gathering at the Te-khi Bar in Battle Creek. In their cosmology, it's almost like a national capital. (31 Jul)
Two women think they can drive from Boston to Houston on I-70. I think they'll be clear of the intruders if they go that way. But I think due to recent culture shift involving half-naked border guards, shirts are optional at work. Who's kidding whom? (2 Aug)
I've been clueless in my usual manner until now. But I finally catch on. It's like the Biblical warriors of Israel have shown up in the North American Midwest!
If one believes the Biblical census, the army of Israel had 600,000 warriors (Numbers 26:51). Which is about ten times as many as the Promised Land could support at the time, when one factors in all their families. The story says, God gave miraculous manna to feed them all... until they started conquering. Unless there were 90% casualties, how did the troops survive?
We also know, seven out of twelve tribes complained that they couldn't conquer their assigned territories (Joshua 18:2-3). And they never did; others conquered in their name, centuries later. The Bible says, the seven tribes blended in with the natives... but there's still this matter of enough food to feed them. Where'd all those warriors go?
Now we know! Certain chaos-beings who look like cartoons, have messed with ancient Israel and modern America, and they've just unleashed a lot of power. Their purpose was to bring Israelites forward, when the conquest of Canaan was done! There, the land needed a lot fewer warriors. Here, another million people are barely noticed.
After their reality shift, the Israelites landed around the part of Lake Michigan which resembles the Mediterranean's eastern shoreline. Their new Jerusalem lies somewhere in southwestern Michigan.
How are ancient Israelites blending in today? Oh, give them some credit. Ancient Israelites were famous for blending in.

Their prophets condemned them for backsliding, but their population made a world-conquering religion out of Egyptian cleanliness ritual, Canaanite mountaintop worship (good thing Jerusalem was atop Mount Zion, eh?), Babylonian creation legends, and the Persian concept of ultimate evil. Perhaps God granted them the ideal place to live so as to absorb ideas from all around.
Back in Bible times, the priesthood eventually caught up with the population's beliefs. Here, the Israelites are on their own.

After a while, the migrants congregated towards what would have been their Levitical Cities of Refuge - if only the cities had migrated too. Still, the migrants adapted. One gathering point was a truck stop on the east side of Battle Creek, Michigan.
Here in America, the intruders just look like a few more strange people from down south. But they carry around real gold; they recently conquered it from the Canaanites!

After the first few attempts for moderns to take gold from ancients with swords, the ancients came to understand modern weaponry, so they got some. It didn't take them long. Moderns also came to respect battle-hardened ancients with big knives.
The ancients also soon understood the concept of paper money - and they issued their own. It's good for gold, which is better than what Govs offer nowadays, so people take it. Hence, certain bits of funny money with strange symbols floating around nowadays.

The U.S. Gov routinely tracks Middle Eastern people anyway. They're having a fit now that they suddenly have a million or so more. They don't realize it yet, but as far as the enemies of America are concerned, it's like the U.S. just recruited a million people for Neighborhood Watch. The Gov just has to say, "We fear the Ishmaelites". Ancient Israel will know, that means the Arabs.
None of the villains of our recent Villain War quite saw this coming. But some of them are reacting.

The Patriotic Homeland Corps is under fire for letting this many immigrants into Michigan where they were on patrol. Their response is, they obviously have a new frontline to patrol, so let's give them more power. Preferably over time machines.
Monseigneur Lateran is exploring whether his idea of devout Roman Catholic religion will go over well with the migrants. Which is ironic, because these people practically founded his religion.
But back to the villains...
The forces of righteousness have barely kept the corks on the volcanoes so far. We've slipped once or twice, and we're taking casualties from power fluctuation and war fatigue. We still have to clean up after the Saucer War, and deal with the Black Arts Competition and the Patriotic Homeland Corps.
That's with only one or two of the world's greatest villains openly active. So this Villain War is only at 2% strength so far. What are 98 other master villains doing?