---
Peerless. What happens when a superhuman goes into pro sports - and it's never been done before?
Buffalo-New York has started planning their Super Bowl victory party at Niagara Falls! How'd their usually mediocre team even get in the playoffs? Must be they have a Superhuman of the New Present.
Coincidentally in the "Real World" (which I visited once, but it was boring), the Buffalo Bills have a wide receiver whose mommy apparently named him "Peerless". If he'd caught five more touchdown passes during critical games (for a total of 8 in the season instead of 3), his team would be in the playoffs (12-4, not 7-9). Here, he put on that little burst of speed and got clear to catch the passes.
The National Football League is debating what they would do if a publicly known superhuman tried to sign on. But Peerless is showing himself as just a little bit better than the best, and the NFL can't argue with that.
I'm actually known as a successful planner of parties. So I'm helping plan the Buffalo victory party. Can we go to Toronto, or are Peerless and I stuck in a cheap costume shop to get some stuff fitted? (15 Jan)
---
Mage Contract. Some of the superhumans of my world are evil mages. And they have as much chance as anyone else to work for governments. Especially when the U.S. Gov starts a massive investigation into alien mind control.
Evil mages may sound silly. But I've been dealing with evil mages since 1995. I think it's the Gov's turn to deal with them.
One of the places that gets the contract is the Douglas, Massachusetts compound of the Freedom Engineering Research Group - the FERG! When my relatives took over the FERG, they left this place alone. And I'm still technically part of the ruling triumvirate. So I go to Douglas to report for work.
I've been worried about the Gov cracking down on me. But when the Gov needs an expert on aliens, they're not all that fussy. And I'm definitely an expert on aliens. On this job, I'm safe for now.
In Douglas, I have to cross ten lanes of traffic on Main Street to get to the job. Unlike in the "Real World", Douglas is not a sleepy New England town with no traffic lights. It's home to a major technological survivalist compound - which I once operated! So it has big roads coming into town now... one road three lanes each way, another one branching off for two towards the residential housing. (21 Jan)
When I arrive in Douglas, my old room in the FERG Hotel still has some of my stuff that I abandoned years back, but someone's moving in. I tell the movers they can leave my stuff, because having me around is good feng shui. (21 Jan)
A superhuman and an engineer there were both helpful to me last month, during that Islamic hemorroid stuff. I should invite them to a party in May, but will I still be here, and would they come? (21 Jan)
Mystics with bolo ties are competing with us, as a rival contracting team. So, my team had best get moving. (21 Jan)
For the job, I soon have to commute into Manhattan. New York City already has its own database of the new superhumans, and I have to check it for aliens. There I get a vaguely Manhattan-shaped coloring book, and rescue a mystic from a disk backup. (24 Jan)
Also in NYC, Kathleen Turner and Mel Gibson are filming a one-hour TV variety show. I get on the lot, because I'm known to entertainment companies. And I tag along with Kathleen when she drives into town; she'd rather not have the police escort, though it follows us anyway. (24 Jan)
So, I show up on an Entertainment Tonight report. This doesn't mean my part of the job is successful, but it at least makes the mages nervous. And apparently these are evil mages. So they make our systems go Boom one day.
After that, several of us are hiding out on the field at the nearest airport - in Warwick, Rhode Island. We figure, the Gov controls airports, so it's safe. But someone crashes a blimp into the nearest weather radar. People will probably think we're terrorists. Oops! (3 Feb)
To get off the airfield, we cut through a hotel. There's a game convention with indoor musical pool cue hockey, and martial arts. Some of the martial artists want to recruit me to fight for the honor of Texas. Boy, they must be desperate. (3 Feb)
Okay, we've made it out. But evil mages have attacked me and my friends. I'm used to this crap, but my friends aren't. This needs to stop. Somehow.
And maybe it's time to take another job.
---
The Socotra Incident. People in this world worry about terrorists in Iraq, and sometimes Yemen and Somalia. What about all those other places terrorists might hide - like in between Yemen and Somalia?
---
Heh. So far this month, I've merely impressed a friend by levitating on a bus. My technique was sloppy, but he's like most people and can't fly at all. (4 Mar)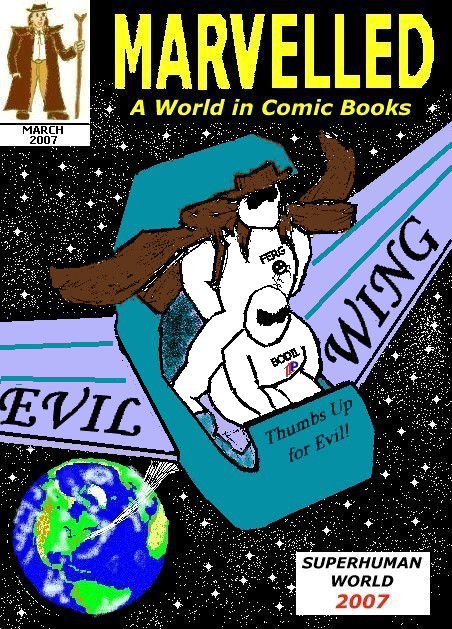 ... Oops, spoke too soon.
Ladder to the Moon. In the middle of the war between the U.S. and. the flying saucers, people from the secret Lunar base have attacked my friends! That is something I will join the response to, without complaint or hesitation, even if it does inflame an interplanetary incident. (14 - 20 Mar)
doG Rest Ye Merry Gentlefolk. Politicians and Black Arts mages are joining together for a blasphemous "Think and Grow Rich" ritual. It is my pleasure to disrupt such crap, especially when my friends ask me to.
Evil Mayor Russell Anvernacht and loonie patriot Rupert Mafekinger are trying to conduct a mystic ceremony in a basement with plastic knives and spoons. During dinner, Anvernacht talks about outsourcing the magic. What sort of golems are available, other than smelly toe-shaped ones that people like me utilize?
They're meeting in Chicago, which is the most comfortable neutral ground between Washington, D.C. and Iowa. For lodgings, they have nice hotel rooms. But for evil magic, they favor a brownstone on the south side near the lakeshore.
I know mages who like to police themselves and the superhuman sub-world of mages, before the outside world does. And I've been known to respond when it's time to go policing; I was near Somalia the last time. I happen to be visiting Scumburg-Illinois when this call comes, so I'm first to respond.

I came from Boston. From there Rio de Janeiro. From there the Dreamtime. From there the Moon. It's been a busy month so far. But at least I wasn't in Somalia like last month.
I have to get some of my stuff from my favorite warehouse in Illinois. I've been putting it off for a while, and now's the time. So here I am... just in time for more stuff.

Traditionally during the year of the Black Arts Olympics, magic rituals are open to any observer who can magically get past some normal human guards. I can dimension-walk past them... as long as I take care not to fall in the Dreamtime. When I'm there, I can observe without having to announce myself.
The ritual is of the "Think and Grow Rich" sort. They simply write down their goals first, which is Creative Visualization at its finest. Then they eat a sumptuous meal with unworthy plastic tableware, thereby signifying the worthiness of their unworthy selves to Think and Grow Rich. Oh well, I guess that counts as magic, but I don't feel the need to disturb them or disrupt the ritual.
But then some men in robes come in singing, "doG Rest Ye Merry Gentlefolk, let nothing you dismay; Remember that the end of days will come without delay..." I recognize some Black Arts mages among them. They're all over the Internet, so please don't make me catalogue them for you.
Okay, this just escalated. Evil mages already attacked me and my friends this year. Now I see that same evil, consorting with enemies of my other friends.
So I step in and say, "Even Ozzy Osbourne can say the name of God. So remember the Threefold Law - and try some real tableware."
Rather than stay and argue with a room of evil politicians and mages, I bolt. But first I snatch the plastic knives from the table, since they seems to be central to the ritual. And they've already used these knives, so they can't just use new knives if there's really mystic power involved.
Yes, I know this sounds like a breach of mystic treaty. But by the modern pagan Threefold Law of Consequences, the attackers deserved this and more from when they attacked my friends. Some of these doofs actually try to recreate that old time religion the supposed Druidic way, so maybe they get my message.
As for politicians, I guess we'll all have to wait and see whether they get more power from this abortive ritual. I suppose that's only fair, because we'd all have to wait and see, even if it were successful. (28 Mar)
---
Life on Patrol. My superhuman friends want me on patrol against evil. My superhuman enemies want to neutralize me by putting me on patrol against the usual sorts of trivial evil. I guess I'm on patrol. (2 - 20 Apr)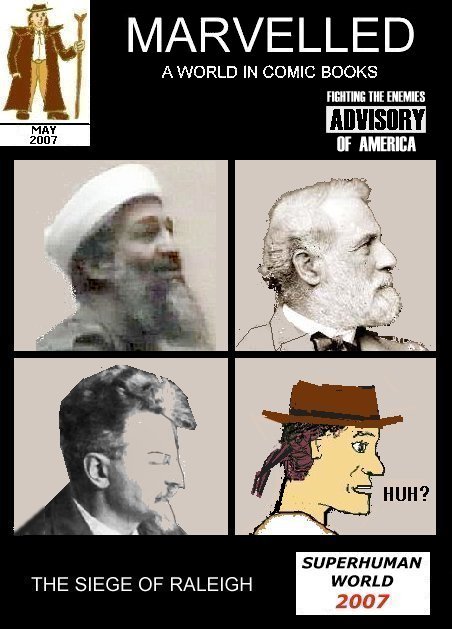 ---
The Siege of Raleigh. Uh oh, Osama bin Laden has his hands on a time machine, and his minions are on their way to meddle with the U.S. Civil War - and then the Russian Revolution and World War 2! (20 - 31 May)
---
Another Decision at Potsdam, or, The Siege of Raleigh Continued. Osama bin Laden and his time machine have gone to 1945... but what are Leon Trotsky, e-mail, and Hooters doing here? (1 - 18 Jun)
Interlude. As part of my job, I'm expected to not take some well-deserved downtime after my last mission. Instead, I'm supposed to volunteer to help look for the superhuman former professional wrestler Crusher Joe Corrigan. It might be time to take this job and shove it. (22 Jun)
The Villain War. Featuring:
My Vampire Love. Girlfriend situations never last long with me. Here's another reason why. (24 - 29 Jun)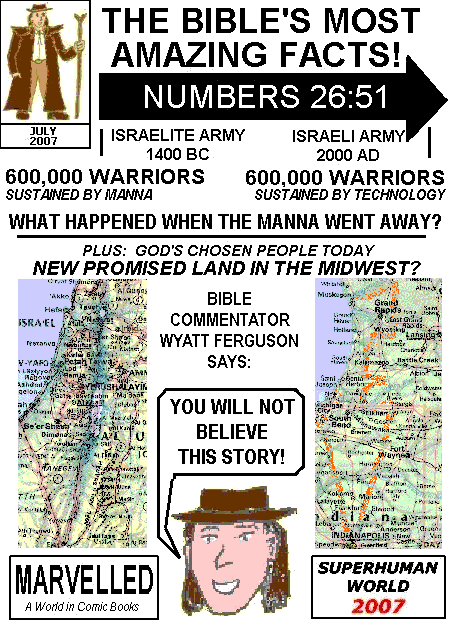 ---
The Villain War continues.
New Pannonia. The Patriotic Homeland Corps is starting to think very specifically in terms of empire. And one of their imperial terms scares me more than any term I've heard since "Aleut Republic". (1 - 5 Jul)

Me and Mrs. James. Laura James (formerly known as the superheroine Morningstar) and I sit on a bed together and fool around with blankets and a remote control, while someone tries to debrief us. (3 July)

Now What? I'm not sure what's going on, but there're weird customs, weird borders, weird currency, and Biblical warriors loose in the American heartland. (26 Jul - 2 Aug)
---
First Contact Con, or Welcome to the Occupation. The Saucer War is over - and the aliens won! Or at least they think they did. Now, they're introducing themselves in the human manner - with a convention. (13 - 17 Aug)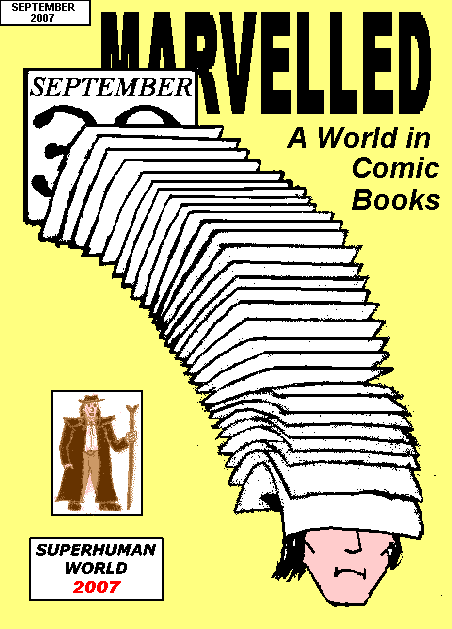 ---
A Month in the Life. For once, I've spent a month without quite being sucked into any extradimensional incursions, alien invasions, or superhuman battle squads! That's such a special thing in my life, I'm going to tell the whole story.
Week 2:

Week 3:

Week 4:

Week 4+:
So now you know my life, the way I'd like to live it once I dump all that superhuman crap (the way I keep threatening to). But of course, something always comes up. Just not this month.
Could be I'm obsessive-compulsive. Or as some people put it, I dash about the landscape like a monkey on crack. But at least I'm more motivated than a lot of people, and I see lots of stuff.
If you don't hear from me next month, or the month after that... let's just assume it's like this month, eh? But I'll only believe three months of down time happens, when I've lived through it.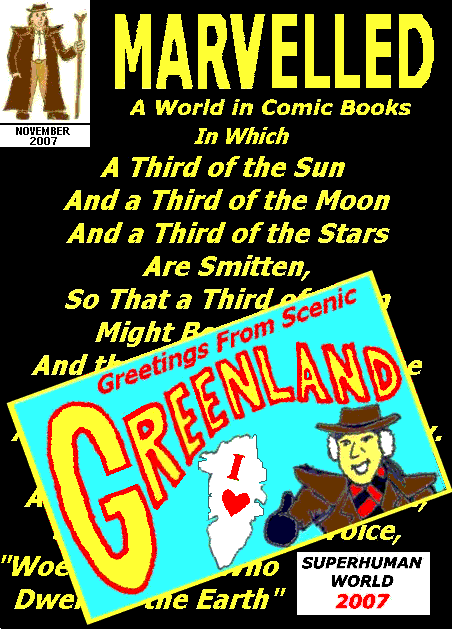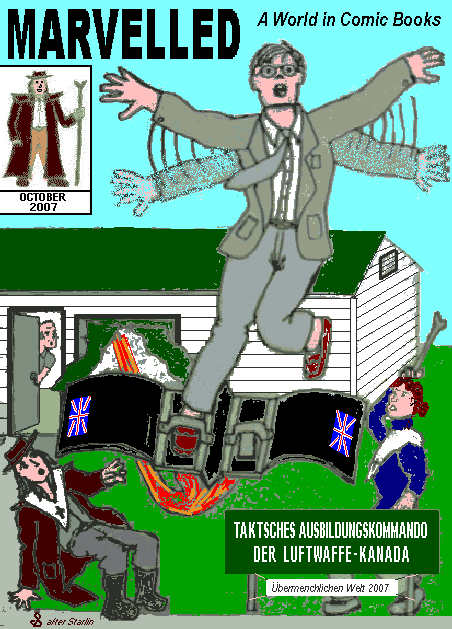 ---
Secret Wings. The United States wants to harness superhumans. Most other countries crave the underlying superhuman technology instead. Friends of mine are in the crosshairs... so by extension, I am too. (9 - 31 Oct)
---
Hung be the Heavens with Black 2. Is it the end of the world again? Maybe not, but it's some heavy international politics - including a nuclear attack on North America. (1 - 5 Nov)
Scouring of the New Shire. Even in grand old hobbit adventures, the victorious adventurers had to clean up their homelands afterward. It seems I have to do that too. (23 Nov)
---
Backlash. I've been declared a master villain!
I am accused of not putting my own nation's geopolitical desires first. Which is ironic, because I actually served in its Patriotic Homeland Corps this year and my accusers didn't. Unfortunately, the Patriotic Homeland Corps is a gateway to becoming a master villain.
I am accused of sabotaging a NATO aviation program , thereby allowing Russia to achieve its current exclusive mastery of Earth orbit. Well, that's what NATO gets for kidnapping my friends.
I am accused of consorting with Russians and other master villains. Well, duh, the Russians helped me rescue my friends from NATO. And for some reason, they've been working with me all year.

Last June a Russian master villain and I neutralized Osama bin Laden together, using a time machine. Best guess is, bin Laden wound up in Michigan. In the MSU Union, there's now a picture of him on trial in 1946! The caption says it's just a lookalike named "Professor Scratch", but I know better. (11 Dec)
But Russians and I are hanging out for fun too, starting with that same master villain, but now including his friends, or agents, or whatever. Perhaps the Russians have noticed, I mostly travel the world to have fun. If they're trying to recruit me, it's working.
Most recently, a couple of Russian emigres and I decide to go to London to get some real English pub food. Too bad they have visa issues. Nowadays I might have them too. (21 Dec)
I've hung around with Russians so much, I've heard where they get operating funds from, even though their nation is nearly bankrupt. Stalin left a stash in a crypt in Vienna, when Soviet troops were occupying there! (27 Dec)

I'm guessing I've attracted Russia's attention because I'm the world's most self-publicizing superhuman, thereby a good entry point to the Superhuman World. My own government has passed me by, because they work better with my siblings.
Superheroes don't talk to me much, but I still have access to an e-mail grapevine. Now, I've been told I might be getting stalked by a shrunken hunter. She's small enough to hide in a pill jar - by the edge, in case there's another pill jar inside. (23 Dec)
But I'm concentrating on my new job, helping artists broadcast Mike Oldfield songs to outer space. When someone points out it's all like one big song, I say, "So where would you start?" The start of Tubular Bells seems obvious to me, but some people prefer Ommadawn.
SETI's being shut down, because we've already found the aliens. Now we have to start convincing them we have things they like. Why not Mike Oldfield songs?
While my brother negotiates the best song to start with, I levitate and bounce around the room. It beats going to work to study for the next database job. And it pays to exercise my superhuman powers, lest they atrophy. (23 Dec)
For some reason, we're trying to get some religious sanction for the broadcast. This is not as weird as it may seem, because the aliens appreciate the added psychic vibrations of goodness, as well I know. So a boy and I stand in line to be approved by religious authority, but we get rejected.
I catch the wind and fly away, but I'm being pursued through the air - by Johnny Rotten! It would seem he has similar powers to mine, which is reasonable if he's ever been a mage.
He chases me through the air until I bite a biscuit. It's a human-shaped voodoo biscuit, which is just sensible self-defense. I manage to get the right color frosting on his head in midair, so as to enhance the effect. (26 Dec)
It seems for now, this is not a fight against my villainhood, it's just industrial bargaining. Once we give Johnny Rotten (a.k.a. John Lyden of Public Image Limited) a slot in the alien broadcast schedule, he's satisfied. But he says I'm a wanker for attacking him in midair when he just wanted to talk.
Oops, I guess I'm paranoid. But it doesn't mean people aren't out to get me.
What Have We Learned This Year? (31 Dec)
In 2006, superhumans resolved to change the world and do it right. But we couldn't agree on how, any more than the United States Congress usually does.
We started 2007 with a few superhumans on patrol in India. We ended with superhumans changing the balance of power between Russia and the United States.
We started 2007 with aliens operating on Earth in secret. This year we had the official First Contact, but not involving governments. Governments were annoyed.
Yes, we're changing the world. It seemed to be on the road to hell already, but I don't think we're helping.
But superhumans have rivals now: supermold. Whatever we higher life forms decide among ourselves, the Fine Green Paste could change everything next year.
We had a Black Arts Competition this year. The contenders have blessed a villainous alliance, tried to nuke Michigan City in Indiana, and loosed the Fine Green Paste. I don't know who won, but I declare them all losers.
In personal news, I seem to have drifted apart from many of the superhumans, because I hang out with villains. But maybe next year people will realize, nobody's ever a villain if you ask them.

Of course there are still people who oppose most of humanity, and these can realistically be called villains. I'm putting Evil Mayor Anvernacht in that category.
Some people are just so stupid, their plans oppose humanity too, so they're villains too. I'm putting the Patriotic Homeland Corps in that category.
But there are also people who fight for their own nations and a reasonable vision of the world, and they're called villains anyway. Hopefully my new Russian friends fit in this category.
Last year I was on record as predicting, most superhumans would be slower to adapt to this new world than I've been. Posterity will be the judge, of course, but I think my prediction is still on track.