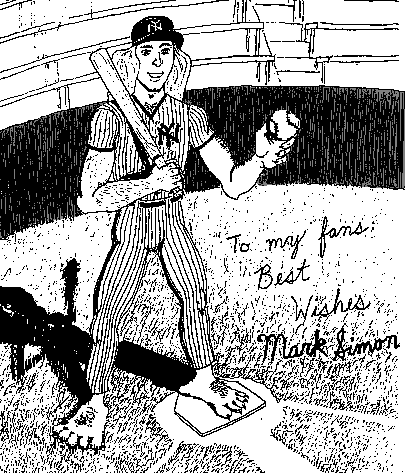 History
Leo is publicly known as Mark Simon. He is a superhuman with cat-like powers - and now vampire powers too. And he has about as much history as I have. Aww, shit.
1990: Mark Simon was experimented upon by the CoopTech corporation. He fought his way free with his new cat-like powers. Yada yada.
1991: Mark found patrons: Stephen and Julie Wolcott. He became one of Julie's bodyguards, and took the name Leo. He thereby got drawn into the Total Conversion battle squad which Julie operated for her husband Stephen Wolcott (Ellipsis). There he met Doctor Lithium and Crusher Joe Corrigan. While on Total Conversion, Leo briefly got a place on the New York Yankees roster. The one game in which he played, led to a prohibition on superhumans in major league sports. Leo then left Total Conversion to work as a trainer for the Yankees.
1997-1998: Leo was re-recruited to Total Conversion as they fought against the Last Army. Crusher Joe and Doctor Lithium were there also, as was Vara Hosea under the name Bokor. Total Conversion eventually dissolved when its leaders Stephen and Julie Wolcott were captured.
1999: Stephen and Julie Wolcott reappeared. (asabove.htm) Shortly thereafter, the Earth suffered a reboot-level crisis. (me1999.htm#hung) After the crisis, Leo stayed in seclusion. Rumors say, he was mutated during battles with the Last Army and had nine tails.
2003: Leo, now cured, briefly reunited with Stephen and Julie Wolcott for a celebrity baseball game. (november.htm) In the wake of that game, he married a supermodel.
2005: Leo was plagued by a vampire queen. To avoid vampires, he sold his marriage to the Devil - and then signed on with the British Army in Iraq! I worked with him there - and so did the Powernaut! (2005/occulator.htm#army)
2007: Leo took refuge from the world, alongside Crusher Joe on Crusher Island in Washington state. (2007/crusher.htm) Unfortunately, Crusher Island was then attacked by Lunar allies of the Russians. (2007/secretwings.htm#hung)
2008: Crusher Joe was drawn back into alliance with U.S. superhumans. Leo defected from him, and went on missions with militias against the U.S. Government. (2008/commentQ1.htm#oakland) Meanwhile Leo came under continuous harassment by invisible aliens known as Zarkonites. Eventually he tired, time-travelled back to 2005, married Rose the Vampire Queen, and became Leo the Vampire King! Leo and Rose then accepted sponsorship from a mysterious superhuman known as Eric X, and moved to the island realm of Tuvalu. There Leo would command pirates as Leo the Pirate Vampire King! (2008/assessment.htm#undersea)
2009: Leo, now Captain Mark Simon of the Tuvalu Defense Force, worked with U.S. Vice-President "Crusher" Joe Corrigan to negotiate a mutual assistance treaty. He also hired a mercenary to deal with his original experimenters, who were selling meat made from his clones. (2009/journal.htm#leo)
... Phew. I think the Powernaut would not stay awake if someone recited this history to him. But I love this stuff. In 2009 I said, based on sheer weirdness, the world needed to watch Leo. I was right.
---
Personality
---
Powers and Abilities
---
Appearance
---
Publications
Earliest Appearance: (story name, story year, link, number if applicable)
First Published: (story name, story year, link, number if applicable)
Most Recent Publication: (story name, story year, link, number if applicable)
Latest Appearance: (story name, story year, link, number if applicable)
---
Author's Notes
(to be continued)
(signed) Scott Eiler, _date_.